We have 285 Registered Ethanol Vendors and looking for many more…..
You can register with us anytime.


We are targeting 20% Blending of Ethanol in Petrol by 2025……
Join Us for an assured long term Ethanol commitment. 
RO Proliferation to reach minimum 3000 ROs by Aug-23 and 10000 ROs by Dec-23.



Expand your Ethanol producing capacities with Govt. schemes……
Contact Us for more details.


1000+ Crore Litres of Ethanol required per year for 20% blending by 2025….
Current supplies are only one third of this.


Rice and Maize added to the list of feedstocks for producing Ethanol…..
Others are Sugarcane Juice, Sugar Syrup, Sugar, B&C Heavy Molasses and Damaged Food Grain.
Ethanol Blended Petrol Program​
India as one of the fastest growing economies in the world continues to experience a high and increasing demand of crude oil and petroleum products. Traditionally fossil fuels have been the primary source of energy in the transportation sector. However, biofuels have gained significant attention in recent years as they have been considered as viable alternatives offering significant economic and environmental benefits.
The Government of India (GoI) and the Oil Marketing Companies (OMCs) areaggressively promoting blending of 10 % ethanol in Motor Sprit (petrol) with a view toreduce the carbon footprint and conserve foreign exchange by reducing import ofcrude oil. For the Ethanol Supply Year (ESY) 2019-20, ethanol supplies of 172.42crore litres could be effected by suppliers to Public Sector OMC's as against therequirement of 511 crore litres enabling average 5% ethanol blending in petrol. TheGovernment has plans to gradually increase the blending percentage to 20% by theyear 2028 for which the ethanol requirement is expected to be around 900 crorelitres. OMC's have invited Expression of Interest (EOI) for procurement of 457 crorelitres of ethanol from various feed stocks sourced from Sugarcane (Sugarcane Juice,Sugar Syrup, Sugar, B-Heavy & C-Heavy Molasses) and also from Grains (Riceprocured from Food Corporation of India (FCI), Maize and Damaged Food Grains)for ESY 2020-21 against which OMCs have received offers for 330 crore litres only
ROADMAP FOR
ETHANOL BLENDING
IN INDIA 2020-25
Achieving energy security and transitioning to a thriving low-carbon economy is critical for a growing nation like India. Blending locally produced ethanol with petrol will help India strengthen its energy security, enable local enterprises and farmers to participate in the energy economy, and reduce vehicular emissions.
The Government of India notified the National Policy on Biofuels – 2018 (NPB–2018) on 4.06.2018. Under the Ethanol Blended Petrol (EBP) Program, an indicative target of 20% blending of ethanol in petrol by 2030 was laid out.
Cabinet Secretary, Government of India, while chairing a meeting of the Committee of Secretaries (CoS) dated 28.11.2020, on the subject 'Manufacturing, Sales, Utilization, and blending of ethanol,' inter-alia directed that, "MoP&NG may institute an Expert Group to finalize a clear roadmap not only to achieve year-wise blending targets for the next 10 years but also the various policy implications of such a plan. Issues such as pricing of ethanol, matching the pace of the automobile industry to manufacture vehicles with new engines with the supply of ethanol, pricing of such vehicles, fuel efficiency of different engines, etc. may be studied."
Accordingly, an inter-ministerial committee under the Chairmanship of Additional Secretary, NITI Aayog, was formed comprising representatives from MoP&NG, DHI, MoRT&H, DFPD, IOCL, and ARAI (Annexure A). Subsequently, the target year for achieving 20% ethanol blending in petrol was advanced to 2025 by CCEA in the meeting held on 21.12.2020.
The committee noted that a very strong foundation for the ethanol blending program had been laid out by the following initiatives:
Interest subvention scheme for molasses and grain-based distilleries (DFPD).
Setting of standards for E5 (Ethanol 5%, Petrol 95%), E10, and E20 blends of Ethanol blended petrol (Bureau of India Standards, BIS).
MoRT&H has notified GSR 156(E) on 8th March 2021 for the adoption of E20 fuel as automotive fuel and issued mass emission standards for it. MoRT&H has also notified Safety standards for ethanol blended fuels vide GSR 343(E) dated 25th May 2021 on the basis of Automotive Industry Standard (AIS 171). It lays down safety requirements for type approval of pure ethanol, flex-fuel & ethanol-gasoline blended vehicles in India.
BS-VI Emission norms in effect since 1st April 2020 are applicable for E-20 Vehicles.
After soliciting inputs from relevant ministries and associations and analyzing progressive demand-supply projections, challenges in the manufacture of E20 vehicles, and infrastructure of Oil Marketing Companies (OMCs), the committee suggests a gradual rollout of E20 ethanol in the country to achieve the target by 2025. In the meantime, the rollout plan suggests pan-India availability of E10 from April 2022 for use as a protection fuel to meet the demands of existing vehicles until April 2025.
In this report, the committee has estimated an ethanol demand of 1016 crore litres based on the expected growth in vehicle population. The modeling exercise on the expected penetration of electric vehicles estimates the ethanol demand for petrol blending in the range of 722-921 crore litres in 2025. The committee has, however, framed its recommendations on an optimistic demand for ethanol (1016 crore litres) to ensure that the objectives of E20 are met by 2025.
The current ethanol production capacity in India of 426 crore litres derived from molasses-based distilleries and 258 crore litres from grain-based distilleries is proposed to be expanded to 760 crore litres and 740 crore litres respectively. This would be sufficient to produce 1016 crore litres of ethanol required for EBP (Ethanol Blended Petrol) and 334 crore litres for other uses. This will require 60 lakh MT (Metric Tons) of sugar and 165 lakh MT of grains per annum in ESY 2025 to be used for producing ethanol, which the country can support. The committee's generous demand estimates and consequent supply projections give us confidence that our suggested plan for E20 roll-out is robust.
To get the ball rolling, MoP&NG should proclaim and lay out the target for 10% ethanol blending of gasoline fuel all over the country by April 2022. MoP&NG should further initiate phased roll-out of 20% ethanol blending from April 2023 onwards to enable action by all stakeholders, namely Oil Marketing Companies, vehicle manufacturers, service stations, distilleries, and entrepreneurs, as per a detailed roll-out plan suggested (Figure 9.1). This should be supported by a simpler and quicker regulatory regime, preferably single-window clearance by the States, MoEF&CC, PESO, DFPD, and MoP&NG, and the launch of educational campaigns for consumers.
When using E20, there is an estimated loss of 6-7% fuel efficiency for 4-wheelers which are originally designed for E0 and calibrated for E10, 3-4% for 2-wheelers designed for E0 and calibrated for E10, and 1-2% for 4-wheelers designed for E10 and calibrated for E20. SIAM has informed that with modifications in engines (hardware and tuning), the loss in efficiency due to blended fuel can be reduced. To compensate consumers for a drop in efficiency from ethanol-blended fuels, tax incentives on E10 and E20 fuel may be considered.
SIAM has assured the committee that once the roadmap for the availability of ethanol-blended fuel in the country is issued by MoP&NG, they would gear up to supply compatible vehicles in line with the roadmap. E20 material compliant and E10 engine-tuned vehicles may be rolled out all across the country from April 2023. These vehicles can tolerate 10% to 20% of ethanol-blended gasoline and also give optimal performance with E10 fuel. Vehicles with E20 tuned engines can be rolled out all across the country from April 2025. These vehicles would run on E20 only and will provide high performance.
In recommendations (Chapter-9), the report lays out specific responsibilities of union ministries, state governments, and vehicle manufacturers, which are summarized in Figure 9.1 as the suggested E20 rollout plan for 2025. To accelerate the adoption and transition to ethanol-blended fuels, price incentives through tax relief at the retail level on ethanol-blended fuel and tax incentives for vehicles compatible with E20 are suggested. The government may also encourage the use of lower water-consuming food grain crops like maize and 2G feedstock for the production of ethanol.
Technical Specifications for Reference Fuel
[BIS (Bureau of Indian Standards)]
E0/E5/E10 : IS: 2796: 2017
E100 : IS: 15464: 2004
E20 : IS: 17021: 2018
ED95 : Hydrous Ethanol IS 16629:2017 plus additives.
E85 : IS: 16634:2017
Roadmap for Ethanol Blending in India: 2020-2025

Address Environment Concerns

Reduce Import Dependency

Boost Agricultural Sector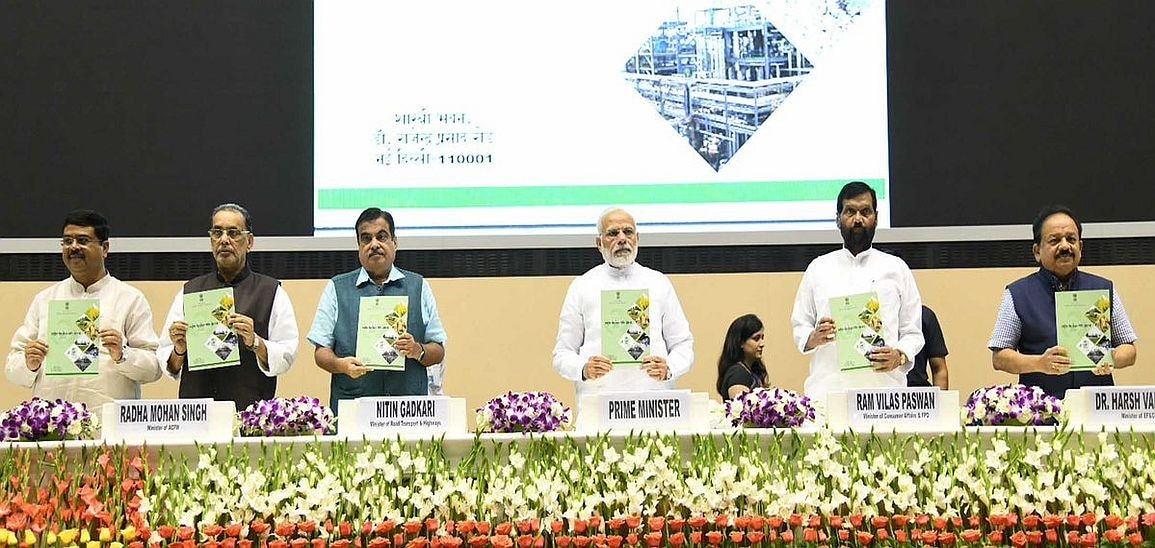 Biofuels can provide fresh momentum to India in the 21st century. More use of biofuel will increase farmer income and also create employment opportunities.