We have 229 registered Ethanol suppliers and looking for many more…..
You can register with us anytime.


We are targeting 20% Blending of Ethanol in Petrol by 2025……
Join Us for an assured long term Ethanol commitment.


Expand your Ethanol producing capacities with Govt. schemes……
Contact Us for more details.


1000+ Crore Litres of Ethanol required per year for 20% blending by 2025….
Current supplies are only one third of this.


Rice and Maize added to the list of feedstocks for producing Ethanol…..
Others are Sugarcane Juice, Sugar Syrup, Sugar, B&C Heavy Molasses and Damaged Food Grain.
Ethanol Blended Petrol Program​
India as one of the fastest growing economies in the world continues to experience a high and increasing demand of crude oil and petroleum products. Traditionally fossil fuels have been the primary source of energy in the transportation sector. However, biofuels have gained significant attention in recent years as they have been considered as viable alternatives offering significant economic and environmental benefits.
The Government of India (GoI) and the Oil Marketing Companies (OMCs) are aggressively promoting blending of 10 % ethanol in Motor Sprit (petrol) with a view to reduce the carbon footprint and conserve foreign exchange by reducing import of crude oil. For the Ethanol Supply Year (ESY) 2019-20, ethanol supplies of 172.42 crore litres could be effected by suppliers to Public Sector OMC's as against the requirement of 511 crore litres enabling average 5% ethanol blending in petrol. The Government has plans to gradually increase the blending percentage to 20% by the year 2028 for which the ethanol requirement is expected to be around 900 crore litres. OMC's have invited Expression of Interest (EOI) for procurement of 457 crore litres of ethanol from various feed stocks sourced from Sugarcane (Sugarcane Juice, Sugar Syrup, Sugar, B-Heavy & C-Heavy Molasses) and also from Grains (Rice procured from Food Corporation of India (FCI), Maize and Damaged Food Grains) for ESY 2020-21 against which OMCs have received offers for 330 crore litres only.

Address Environment Concerns

Reduce Import Dependency

Boost Agricultural Sector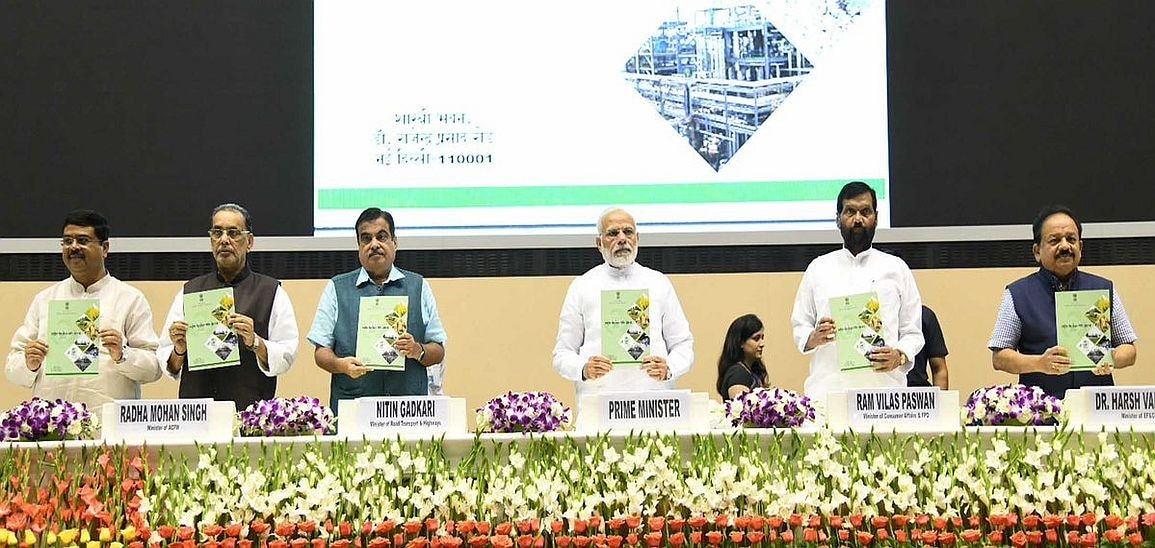 Biofuels can provide fresh momentum to India in the 21st century. More use of biofuel will increase farmer income and also create employment opportunities.